Winter hiking in Ahrntal Valley and Sand in Taufers/Campo Tures
On numerous winter hiking trails you can breathe the sparkling air and enjoy the silence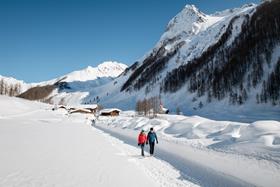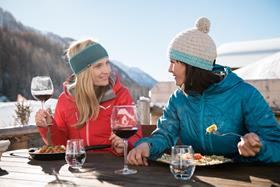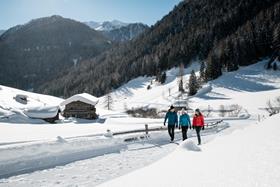 Anyone who enjoys experiencing winter on foot has come to the right place in Ahrntal Valley and Sand in Taufers/Campo Tures. And you don't have to be on the ski slopes to keep active in the wintertime!
This is a place for hiking all year long. And all that you need are good waterproof boots, the appropriate clothing, and anything in your backpack that gives a boost to the body or spirit, from a thermos full of hot tea with honey to the original traditional snack consisting of Tyrolean speck farmer's bacon and cheese right from one of the local farms. But anyone planning to stop off at one of the many Alpine refuges or meadow cabins can also enjoy the typical hearty cuisine and a warm, traditional wood-paneled Tyrolean Stube.
Winter hiking trails
The winter hiking trails in the Ahrntal Valley and Sand in Taufers/Campo Tures area are categorized by duration and degrees of difficulty. Those who admire the winter sun will enjoy gentle strolling paths, such as from Acereto-Ahornach to the Roanerhof farmhouse. Hikers who want to exert themselves, on the other hand, will strap on the crampons and head into the landscape on broad trails or else visit the Cascate di Riva-Reinbachfälle falls if it is cold enough. And it certainly will be at some point during the Campo Tures winter, when the sparkling, glittering mantle of ice reveals itself.
Here you can find our leisure time map for the winter: