The art of bobbin lacemaking
Bobbin laces for half the world
When the mine of Prettau/Predoi had to be closed more than 100 years ago, sixty miners, including forty patresfamilias, lost their jobs. However, the priest at that time, Johann Pescosta, was looking out for new sources of income for the inhabitants of Prettau/Predoi, who were in real need at that time. Finally, he came up with lacemaking and, with the financial support of the mine owner Baron von Sternbach and Count von Enzenberg, they wholeheartedly devoted themselves to this project.
In 1889, the priest sent three women to Vienna to attend one of the best lacemaking courses and to learn this craft from scratch. One of them, Anna Mittermair, then completed an internship at the bobbin lacemaking school in Proveis/Proves and was appointed as a bobbin lace teacher in Prettau/Predoi after her return. At the newly founded bobbin lacemaking school, she taught her art to the miner's children, who in turn taught their mothers this craft, which requires a great deal of tact.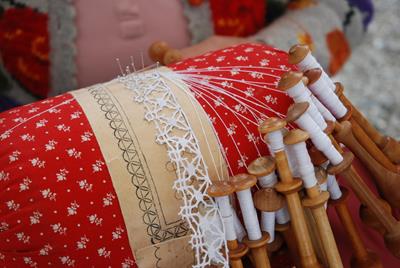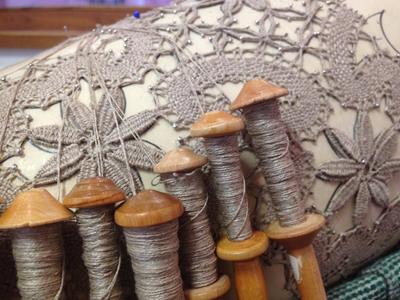 The women soon became involved in the lace trade. Thekla Kofler was already peddling laces at the end of the 1880s. She published her address in fashion magazines and ensured that the lacemakers of Prettau/Predoi were also represented at the Tyrolean Regional Exhibition in 1893. There was great interest in the bobbin laces of Prettau/Predoi, even in America. Towards the end of the 1890s, the bobbin lacemakers got an enquiry from Paris as to whether antique lace could be produced. They tried it out and were able to supply thousands of metres.
Rosa Mittermair, Thekla Kofler's daughter, soon became the driving force behind the lacemaking trade. She also attended one of the best lacemaking courses in Vienna in 1905. Afterwards, she spent six months making lace for an Austrian exhibition in London and completed her training in Vienna with a drawing course. It is mainly thanks to her commitment that this beautiful craft survived the two World Wars and that it still has a great tradition in the valley today.
In 1994, the municipality of Prettau/Predoi founded an association of lacemakers, which now has numerous members. With the financial support of the German and Ladin Vocational Training of the Autonomous Province of Bozen/Bolzano, advanced training courses are being held every year for adults and children to continue this tradition. The bobbin lacemaking school has its own exhibition room where the filigree works can be admired in certain periods. During a drive through the Ahrntal valley, especially through the small village of Prettau/Predoi, bobbin lace is displayed in many windows, inviting you to purchase a piece or simply to watch how such a work of art is created.
CONTACT: +39 0474 654238 / +39 0474 654189