Snow-shoe hiking in Ahrntal Valley and Sand in Taufers/Campo Tures
Feel the silence and discover nature on puffy snow pillows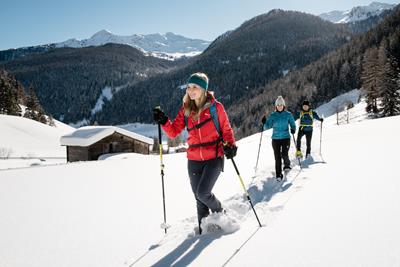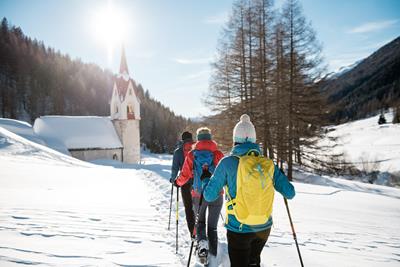 Freshly fallen snow fulfills the desire for the soft tones of nature.
Quietness and the unmistakable scent of the undisturbed lures genuine connoisseurs of winter through landscapes covered in deep snow.
In the Ahrntal Valley and in Sand in Taufers/Campo Tures, there are tours away from the rowdy ski slopes for every taste: from roaming routes over a manageable elevation change to demanding tours that require a high level of physical condition.
With snowshoe hikes, the path is the destination. That is why most of the routes lead past wintry meadows which, beyond the timberline, reward the snowshoer with views of the most beautiful peaks of the Dolomites and the main ridge of the Alps – and of course the Alpine refuges, in which the outstanding cuisine of the area is on offer.
Please note: with snowshoe hikes, it is always necessary to take the current reports from the Avalanche Warning Service seriously and to never go out alone!
Here you can find our leisure time map for the winter: