Cascade Relax
Pure relax in one of South Tyrols most beautiful aquatic centers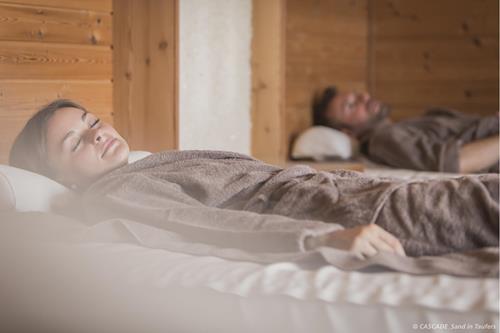 The view goes onto the three thousand meter high mountains around and onto Taufers castle, enthroned above the village. Who wants to enjoy swimming and sauna culture during the holiday needs to visit Cascade in Campo Tures/Sand in Taufers. The near Reinbach waterfalls, with cascades going down for 25 meters gave the name to the aquatic center that opened September 2011. And wonderful experiences through and through is the program here. The guests can choose between four indoor pools and a heated outdoor pool. In order to guarantee the necessary quiet the baby pool is located in a separated area. In the summer opens the nearby ecological pond.

Sweating in scenting holes
Sauna guests can sweat in six different holes, made, among others, of pine, fir wood and, birchwood. Who wants can take a steam bath or relax in the warm room. Particularly appreciated is the responsible oft he sauna, pouring water on the hot rocks. After the sauna a dip in the outdoor pool, separated from the bathing area, is recommended.