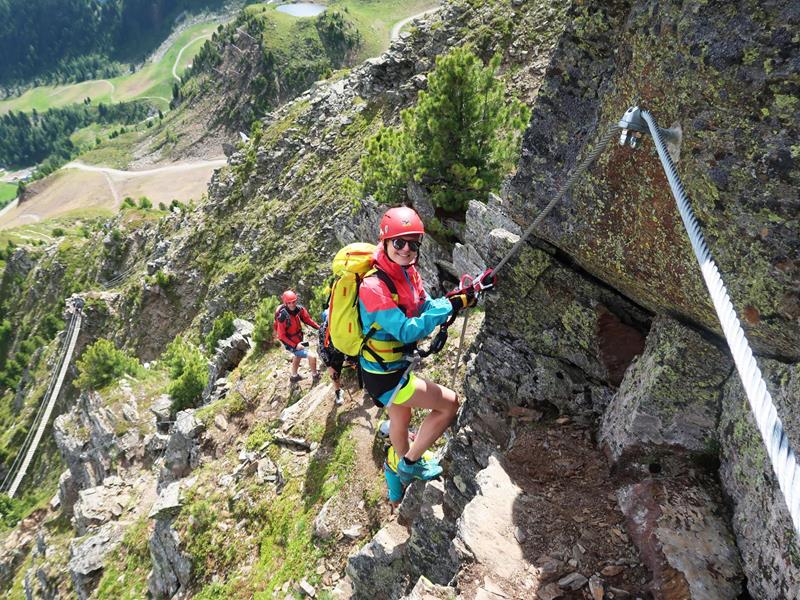 Looking for our latest highlight?

Suitable for enthusiastic newcomers, a welcoming side event for mountain lovers, exiting for sportive climbers. The via ferrata is of a medium degree of difficulty, starting right after the exit of the Speikboden gondola at 2.000m. You'll overcome 350m of difference in altitude belayed and safe. On your first steps out of the gondola you will already get this pure feeling of summits surrounding you. Hold on for the stunning view across Valley Aurina, Zillertal Alps and the white peaks of Durreck. Walk on for the entrance of the via ferrata. Keep the feeling of touching mountains and sky while you step into the via ferrata. Get excited on the super long suspension bridge, get a grip on the edgy rocks of the mountains. You'll arrive at the very peak of Speikboden. Heading towards a panoramic view you can only here enjoy: Dolomites, Tre Cime and Marmolata towards the glaciers of Valley Aurina. The tour is considered a circular route, for your way back you can either chose the chairlift Sonnklar or hike downwards the alpine paths of the Speikboden recreation area.
Details:
Difficulty: B/C (moderately difficult)
Start and finish point: Speikboden Alm at 2.000m, reachable by the cablecar Speikboden
Total ascent: 500 meters in altitude | 3 hours
Way to the via ferrata: 150 meters in altitude| 40 minutes
Return path to the station Speikboden Alm:
Path No. 27 | Walking time: 1 hour 30 min
Panoramic trail (toward Sonnklarnock: 3 hours or toward Großer Nock: 2 hours)
With the chairlift Sonnklar | Walking time: 30 min
Time for the whole round: min. 4 hours
Last descent with the chairlift Sonnklar: 4:30 pm
Last descent with the cablecar Speikboden: 5:00 pm
Securing: Steel cable, clamps, rope bridge, suspension bridge
Best season: June-October
View: Dolomites, Rieserfernergruppe, Venedigergruppe, Zillertaler alps
Equipment: climbing harness, via ferrata set, helmet, solid shoes

Rental of the equipment
It is possible to rent the equipment for the Via Ferrata at the mountain station of the cablecar Speikboden. The daily rate for the complete equipment (climbing harness, via ferrata set and helmet) is as follows:
12,00 € for adults
6,00 € for children under 16 years
Single parts (for example only a via ferrata set or only a helmet) are available for 5.00 € per day.
For each adult who rents equipment, one child under 13 years old will receive the via ferrata equipment free of charge for the same period.

Map / Topo
At the German site "bergsteigen.com" you can find more information, the map and the topo.